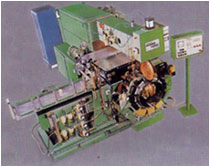 Mechelonic Engineers supplies a complete range of Resistance Welding and related machines. The range consists of :
Side Seam Welder
Container side seam welding machine model 18-51 is a trust worthy and most economical way of producing, consistent, flawless and narrow weld at high speeds, eliminating skilled labour.
Capacity : 0.2-0.4 mm thick,
52-300 mm body diameters, up to 450 mm body height.