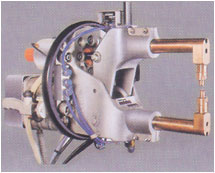 Mechelonic Engineers supplies a complete range of Resistance Welding and related machines. The range consists of :
Portable / Integral Type Spot Welder
Suspension type Integral Transformers with gun are designed for minimising the transformer rating by avoiding the cable length. These portable spot welding guns are for high speed production of metal fabrication shop particularly for the manufacture of automobile bodies and sub assemblies. A variety of guns with different throat depth and gap are available capable of having access to complex welding set up.